The drive to digital transformation is causing the world to move faster than ever. And it seems businesses are experiencing a huge case of "fear of missing out" (FOMO) and adopting new technologies at a dizzying pace.
A few years ago, only a few companies had invested in the Internet of Things (IoT), software-defined networking (SDN), cloud services and DevOps. Today, they're rapidly becoming the norm, and it's difficult, if not impossible, for IT to maintain the current environment.
Doing things manually no longer works. An experienced engineer used to be able to look at router logs, TCP dumps or other data and figure out what was going on and find the source of a problem. But now, so much data is being generated from so many sources that even the best engineers can't keep up and know the network like they used to.
Simultaneously, the network has grown in importance. Most digital initiatives are highly dependent on the network to be available and to perform well. For example, a retailer may implement video to enable customers to talk to remote experts. If the network is down or congested, the service doesn't work. Network outages mean lost revenue, brand damage and possibly lost customer loyalty.
For years, many organizations have strived to move IT to a more predictive model, but the technology and the skills weren't there to accomplish this. Today, artificial intelligence (AI) and machine learning have made many things possible, including Amazon predicting what people want to buy, Google knowing where you want to go before you do, and Tesla driving a car for you.
New technologies create IT skills gap
Despite all these advancements, machine learning has yet to impact IT operations. Is the technology mature enough? Can it work with IT processes? The answer to both of those is an emphatic Yes! The reason it hasn't been brought into IT operations is because most organizations don't have the necessary skills to implement it.
In fact, all the new technologies have created a skills gap that is approaching the size of the Grand Canyon, creating a vicious Catch-22. IT professionals can't learn new skills and modernize the infrastructure because they are too busy managing the status quo. However, they can't change things because they don't have the skills. Quite the conundrum.
Cisco's AI approach to address critical issues
This week, Cisco announced the next step in their services business to help companies shift to a predictive IT operations model by using AI to address critical issues. This will allow customers to free up the time they need to reskill and upgrade the infrastructure to be digital ready.
Cisco is adding two new sets of services to its current portfolio — Business Critical Service and High-value Services. Both use the massive amount of data generated by IT systems and analyzes it with machine learning to hopefully avoid problems. But when problems do happen, the goal is to solve them faster. Details of the services are as follows:
Cisco Business Critical Services
This is the evolution of what was known as Optimization Services. It now goes well beyond based hardware and software optimization. These new subscription-based services are delivered by Cisco's Advanced Services practitioners and deliver analytics, automation, compliance and security to improve the efficiency, agility and security of the IT environment.
Cisco claims its customers have generated an average of $54 million per year simply by cutting unnecessary downtime. I have no way of verifying this, but my research does show that human error accounts for 35 percent of downtime, which is still the largest component of outages, so Cisco's number seems reasonable.
Also, the machine learning-based analytics can deliver insights derived from the data, which people can't do because they can't process the volume of data fast enough to make it actionable. The outputs are recommendations on how to optimize infrastructure and prioritize applications.
The Business Critical Services can also have a big impact on reducing risk. Security remains the top care for IT and business leaders, and despite billions of dollars in investments, high-profile breaches continue to happen. Cisco uses automation tools to help with compliance and respond to threats before they do significant damage.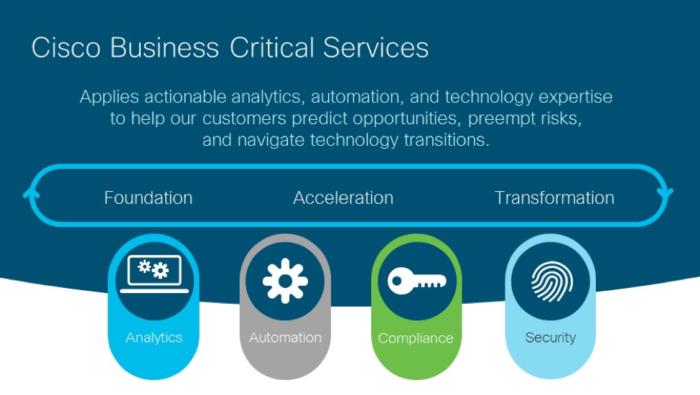 Cisco High-value Services
These are the next phase of Cisco's widely adopted Technical Services. They focus on helping companies better utilize software and the network. Like Business Critical Services, High-value Services use machine learning and analytics to deliver more proactive and prescriptive services so customers can get better value out of their Cisco investments faster.
The below graphic shows the different levels of High-value services. The foundation of the services portfolio is product support, but then it layers on software, solution and network support. The solution support services are the default for Cisco's Catalyst 9K and DNA and will likely be default for other new products.
Cisco is walking the digital transformation walk with these services, as they have digitized its own intellectual capital to create systems that can scan networks and predict potential problems. Cisco says the scans detect at least one problem 86 percent of the time and discover a network-impacting problem about half the time. These may have gone unnoticed by customers for months or even years, meaning the infrastructure was running sub-optimally, which would have a direct impact on productivity and revenue.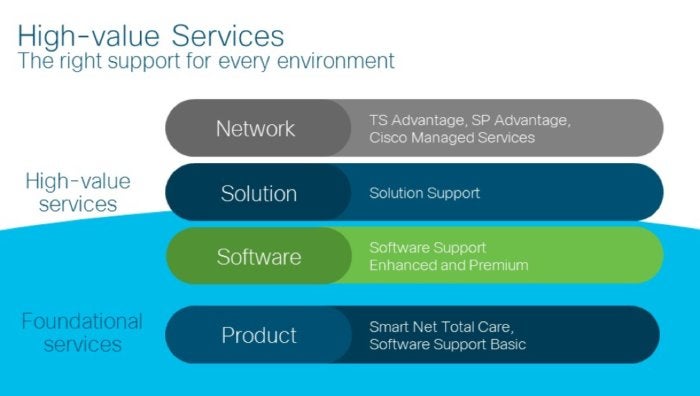 It's important to note that these services aren't meant to replace existing network and IT professionals. Rather they should be considered augmentative by filling in the missing skills at the company. The proactive and predictive capabilities will free up valuable time that can then be reallocated to driving innovation instead of fighting fires and keeping the lights on.