One general rule of thumb I have with respect to technology deployments is that the solution to a problem should be simpler than the original problem itself. Unfortunately, we often forget that in IT and have significantly more problems after implementing a solution than we did before.
Virtualization is a great example of this. Early in the rise of VMware, server admins would often tell me that the number of virtual machines and complexity was significantly higher than it was pre-server consolidation. Eventually, the good folks at VMware built vCenter, and it brought some manageability to large VMware shops.
The same thing can be said for cloud computing. Many businesses adopt cloud so they can simplify and speed up development cycles. If all the company did was shift all of their on-premises data, compute cycles and development tools to a single cloud provider, it might indeed make things simpler.
But that's typically not the case. Using a single cloud provider simply doesn't make sense, and almost every business I work with is planning to deploy a hybrid cloud and use multiple cloud providers. There will be no global domination for Amazon, Microsoft or Google. The norm will be hybrid, multi-cloud, which could significantly increase the complexity of the cloud.
Easing the shift to multi-cloud
This week at Cisco's reseller event, Partner Summit, in Dallas, Cisco announced a portfolio of solutions aimed to simplify the shift to multi-cloud. The suite includes the following:
Cloud Advisory Services designed to help customers design, plan, speed up and de-risk a migration to a multi-cloud environment. This product is made up of several Cisco services that can be delivered by Cisco AS (advanced services) or an authorized Cisco partner.
Cloud Connect helps customers extend their private networks to a public environment securely while maintaining good quality application performance. The products that fall into this are Cisco's vEdge, Umbrella and CSR 1000v.
Cloud Protect, which — as the name suggests — protects a business by securing its multi-cloud identities, cloud network connections, data, apps and SaaS services. Cisco leverages its Umbrella, AMP for endpoints, Meraki Systems Manager and Cloudlock and Tetration Cloud to deliver this.
Cloud Consume helps customers deploy, monitor and optimize their apps in multi-cloud environments. CloudCenter and AppD APM are used here.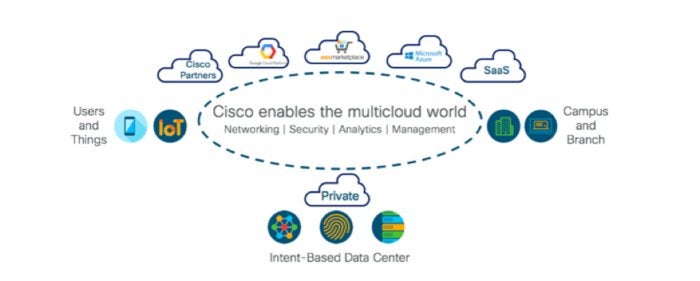 In addition, Cisco has created a number of design and deployment guides. These pair the multi-cloud suite with best practices, integrated designs and detailed implementation steps. This brings some practical cloud knowledge to the offers to speed up implementation and time to market while lowering risks and costs.
Many Cisco customers may be familiar with the Cisco validated design (CVD) guides, which are documents with the heft of an Ayn Rand novel. Conversely, the new multi-cloud design and deployment guides are much lighter weight and used to speed up deployments.
The benefit to a Cisco customer can be significant, as the new offerings combined with best practice guides can take much of the guess work, tweaking and tuning out of the complex world of multi-cloud. No two cloud services are the same, and there are certainly some big differences between public and private clouds. In some ways, Cisco is masking the complexity of the different business models, connectivity options, risk factors and management requirements with a service overlay.
Because the portfolio is made up of several Cisco products, some might think Cisco is trading one set of challenges with another, as a cloud architect would need to wade through all of the different Cisco SKUs. However, like the company has done with its infrastructure purchasing, Cisco has simplified procurement through a number of logical bundles. For example, Umbrella, AMP for Endpoints and Meraki Systems Manager can be purchased as a single bundle.
Benefits of Cisco's multi-cloud offering
To quantify the benefits, Cisco hired McKinsey to model out its multi-cloud offering versus a do-it-yourself deployment for a 2,000-employee, 500-application business. The results are as follows.
10 percent lower software costs from bundled discount
15 percent lower upfront labor costs by reducing the time to design a network and set up security
20 percent lower ongoing labor costs through a reduction of fulltime employees needed to deploy and monitor applications
The numbers are certainly nice, but the real value is in increasing security and speeding up time to market. From the customers I have talked to, moving things to a single cloud often requires weeks, sometimes months, of fine-tuning and adjusting. Using multiple cloud providers can drag that out even longer. The right products and best practices eliminates much of the post adjusting that is normally done.
This announcement follows the Cisco-Google partnership of last week and is an important step for Cisco and its partners. There is currently some debate in the industry as to whether the cloud is good or bad for Cisco and its partners, and until now, Cisco hasn't done a great job helping the industry understand what its role is going to be. I find this interesting, as almost all of Cisco's innovation over the past few years has been in cloud services. I understand the thought, as Cisco has been around for decades and can be considered legacy, but as the cloud fueled the second act of Microsoft, it will do the same for Cisco.
Cisco's ability to simplify multi-cloud deployments should open up a number of new buying centers inside its customer base, including CIOs, cloud architects and DevOps practitioners. It's also great news for the partners, many of which will be at this week's Partner Summit, as they now have the ability to solve real customer pain instead of offering many cloud-related point products.